Watching West Ham v Liverpool last weekend and there were plenty of things that caught the eye: Mo Salah's stunning finishing, West Ham's lack of ambition and, James Milner and Jurgen Klopp having a little tiff. What I didn't see was Michail Antonio's shorts. But why would I? What's so eye catching about someone's shorts? I thought as much when I looked at my phone and saw the message asking my opinion.
For the rest of the half I looked a little closer. What I was looking for, I wasn't sure. But there they were hiding in plain sight. Antonio's thighs. The leg of his shorts rolled up towards his midsection. The reason, I don't know. But it got me thinking about other strange or wonderful things we've seen on footballers. Join me as we take a top down look through the years; head, shoulders, knees and toes inclusive.
Head
Only one player comes to mind when you talk about headgear. Peter Cech with his Canterbury scrum cap complete with a little black sticker over the logo. A few years later, Adidas managed to create their own, leaving the sticker obsolete. Honourable mention to Carlos Valderamma who would have looked good with a scrum cap on.
Nose
A bit like the Vicks-on-the-chest craze that made Vieira and pals look like sloppy eaters, the mini plaster on the nose didn't last long either. It was supposed to help Robbie Fowler (was there anyone else?) breathe a little better. In reality, it drew more attention to his nose. Was this what he wanted?
Cheeks
There are many examples of players playing with a mask to protect their cheekbone (look up Cech wearing the scrum cap and cheek mask). Sinisa Mihajlovic is the one that immediately jumps to mind. Not that he needed it, but he was made to look even scarier with the cheek protector. This was a man known for his temper and who later received an 8 match ban for kicking and spitting at Adrian Mutu.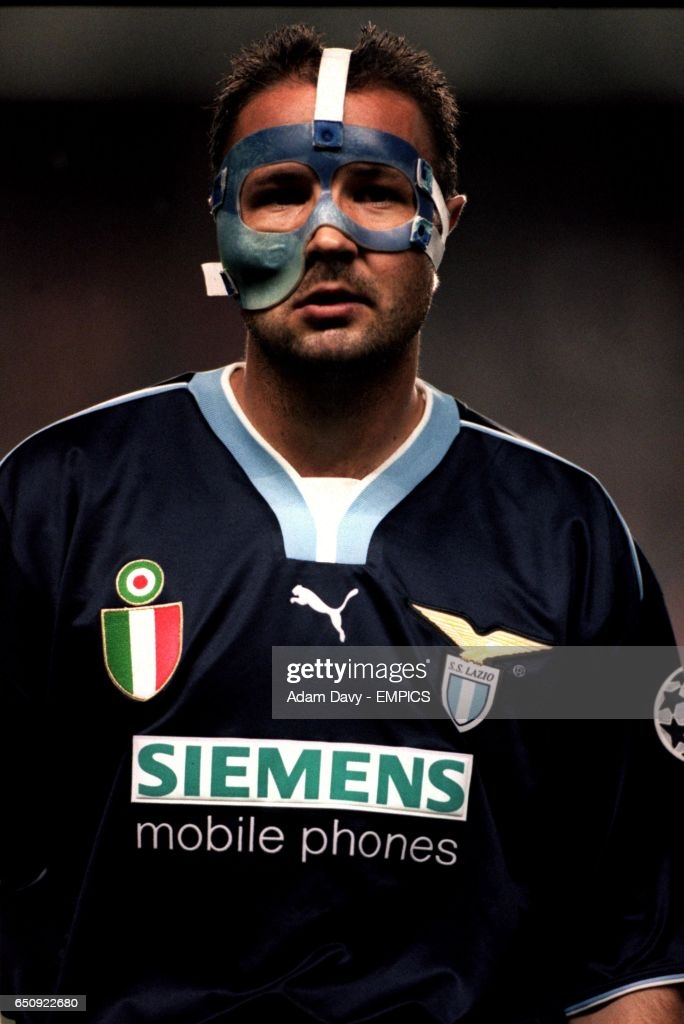 Neck
Collar up, covering up a Leeds tattoo as the 90's rumour went. Eric Cantona was the main man when it came to wearing the collar up. Dwight Yorke and Gabriel Batistuta also were partial to it too. Not so much seen these days as oversized collars are no longer a thing unfortunately.
Shoulders
A few months prior to the 2002 WC kicking off, Cameroon won the African Cup of Nations. The strange thing being it was without sleeves. In a time when Puma had a monopoly over African teams kits they pushed the boat out creating this classic number. However, as we all know FIFA weren't willing to play ball and banned these sleeveless eye candy creations. With their arms covered, Cameroon struggled and crashed out at the group stage. The only explanation for a team with Rigobert Song at the back and Samuel Eto'o up front drawing with Ireland.
Goalkeeper shirts
Every club can lay claim to an awful shirt design, 20 years ago goalkeeper jerseys accounted for a lot of them. Discounting the colour, patterns etc, the kits went through a bit of a transition in the late 90s. No longer fitted with elbow pads, the short sleeve kit took over. The main fashionistas in the area pushing the trend were Barthez and Campos. Is it a coincidence they were both goalkeepers of the smaller variety?
Shorts
Who inspired Antonio's unique look? Nobody probably. Ronaldo could have. Why do they do it though? More freedom to move? Looks good? Who knows. The only thing certain is that it does not look good. If it did, shorts of the 80s would have made a comeback by now.
Socks
Only one winner, Jack Grealish and his ankle socks. And only one reason why Jack does this, and we all know we would too. It may be his love of Steve Claridge, but probably not.
Boots
In an era when boots of different colours are the norm, the 90s weren't quite the same. Paulo Di Canio was the one player I remember in his Celtic and Sheffield Wednesday days who wore white boots (also enjoyed a collar up). Benito Carbone was another. White Beckham-branded predators were released too, with a blue tongue. The white boot is now a thing from the past, surpassed by the luminous variety, and gone with it are coaches up and down the country judging their players for wearing them.